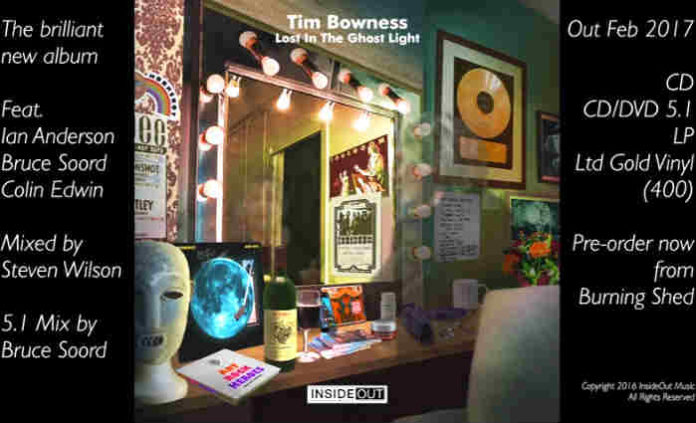 Il vocalist dei No-Man Tim Bowness, anticipa l'uscita di "Lost In The Ghost Light" con "You Wanted To Be Seen" che recentemente ha postato su youtube.
Nel disco Tim ha chiamato musicisti di tutto rispetto quali:, Colin Edwin dei Porcupine Tree, Hux Nettermalm (Paatos),Stephen Bennett (Henry Fool), Bruce Soord dei The Pineapple Thief e Andrew Booker (Sanguine Hum); molte le guest che hanno affollato questo disco, dal mitico Ian Anderson a Steve Bingham dei No-Man, e poi Kit Watkins dei Camel.
Solo leggendo la lista dei musicisti, il disco dovrebbe essere davvero notevole, ma come si sa, non sempre tanti nomi altisonanti fanno di un disco, un gran disco.
Il disco è stato prodotto e mixato dal suo amico Steven Wilson ed uscirà il 17 febbraio 2017
Prince Faster
Il trailer dei disco
La Track List:
Worlds Of Yesterday
Moonshot Manchild
Kill The Pain That's Killing You
Nowhere Good To Go
You'll Be The Silence
Lost In The Ghost Light
You Wanted To Be Seen
Distant Summers
DVD:
Lost In The Ghost Light – DTS 24/96 5.1 Surround / PCM 24/96 Stereo
1. Worlds Of Yesterday (5.41)
2. Moonshot Manchild (8.58)
3. Kill The Pain That's Killing You (3.44)
4. Nowhere Good To Go (4.46)
5. You'll Be The Silence (9.01)
6. Lost In The Ghost Light (1.40)
7. You Wanted To Be Seen (5.32)
8. Distant Summers (4.06)
Stupid Things That Mean The World – DTS 24/96 5.1 Surround / PCM 24/96 Stereo
1. The Great Electric Teenage Dream (3.58)
2. Sing To Me (5.46)
3. Where You've Always Been (4.07)
4. Stupid Things That Mean The World (3.05)
5. Know That You Were Loved (6.44)
6. Press Reset (3.54)
7. All These Escapes (3.06)
8. Everything You're Not (3.40)
9. Everything But You (1.12)
10. Soft William (1.40)
11. At The End Of The Holiday (4.58)